It's the time of the year when the entire nation comes together to celebrate the Republic Day flag hoisting and parade.
While you celebrate the spirit of India this Republic Day, why not dress-up in a trendy outfit taking cues from the Indian tricolor flag?
Amongst the glitz, glamour, and cultural diversity, you have the chance to spread the feeling of patriotism by dressing up in a tricolor outfit.
Whether you are taking part in your office's republic day celebration or are celebrating it with your friends or family, you might come across the question of what to wear this Republic Day that not only matches the theme but looks trendy as well.
Here, we are sharing a few tips and outfit ideas you can try this Republic Day that will help you dress-up effortlessly.
A traditional Indian salwar suit is a go-to fashion pick for every Indian woman. You can pair a white cotton women kurta with green/saffron pants. Or, you can rock a complete white kurta and pant set and finish the look with a tricolor dupatta, which you can easily find online. You can easily find a green or saffron color Indian ethnic wear online. Ensure that you don't overdo the tricolor theme – keep it simple.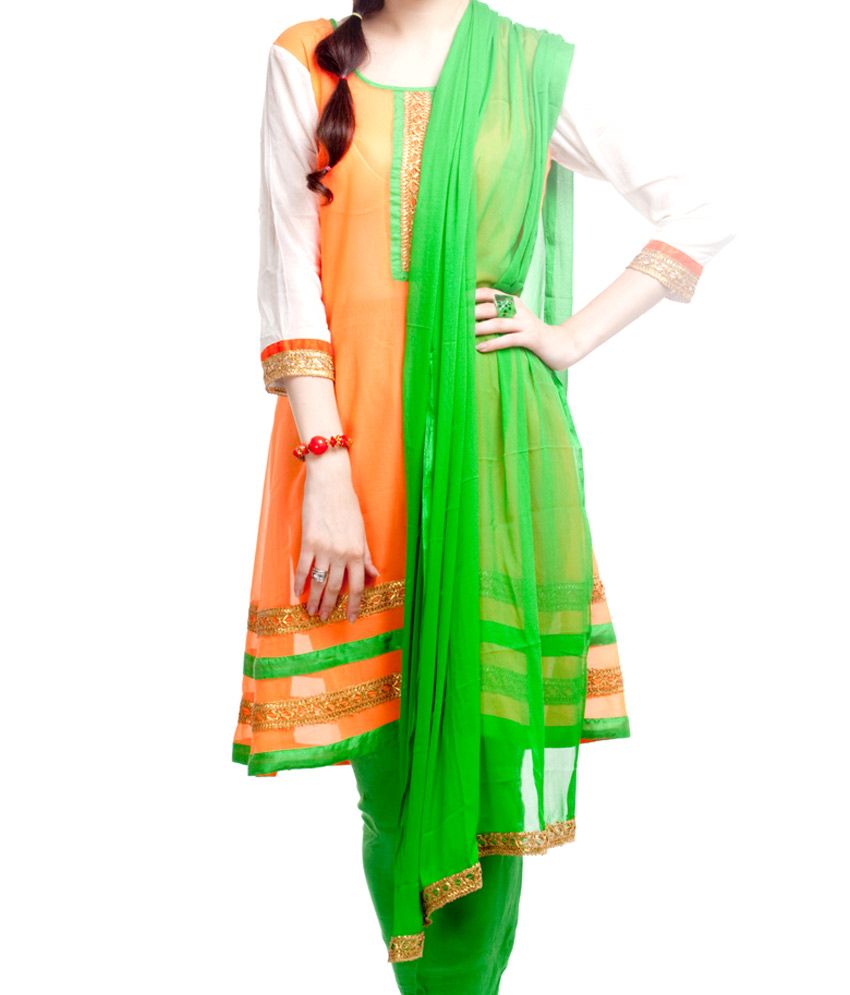 You can also pick a blue flared palazzo online and pair it with an orange kurta or top. Complete the look with high heels and statement jewelry. You can also include a scarf with your palazzo and short Kurti for a more powerful style statement.
When dressing up for Republic Day, the focus should be on including one of the elements of the tricolor in your outfit. It can be a combination of the three colors with a tricolor dupatta, or you can rock a monotone look as well in the green, blue, or orange outfit. Pair an embellished green skirt with a similar crop top and participate in your sibling's Republic Day parade at school.
You can find a wide range of Indian ethnic wear online. Shop for an all-white kurta online either in Anarkali or straight pattern, and attend the republic day event at your office. If you think the white is looking very minimalistic and not going with the theme, accessorize the look using tricolor inspired bangles, dangle earrings, or statement scarves.
The formal trouser look is a work-appropriate outfit for the Republic Day celebration at your office. Pick a white/green/blue trouser and pair it up with a contrasting shirt. For example, you can pick a white trouser and team it up with an orange-colored women's shirt. Enhance the look with some casual accessories and a handbag.
Layered Maxi Dress with a Shrug
For a trendier look on Republic Day, pair a white maxi dress and team it up with a green color knitted shrug. Feel free to experiment with different combinations of the tricolor. Complete the look with a high bun and minimal makeup.
Instead of going with loud accessories, stick to freedom themed bangles, earrings, and scarves. As we said, you don't need to include all three colors in your outfit. Pick one and include it in your ensemble.
Dressing up for Republic Day is quite easy if you follow our tips.
Image Credit – Snapdeal